Breaking down on the motorway is no joke! No matter what country you are in: Thank you, Guardia Civil (Velez-Màlaga)
Driving to Nerja
My sister is in Nerja for two weeks, her 5th holiday abroad this year. Mind you; she is retired and it was her birthday treat.
We had agreed to meet up for a couple of days and celebrate both her and my birthdays. We haven't seen each other since May 2022 when she stayed in Torrox. This time, she is staying with Nerja Beach Holidays, for two weeks.
Our house is north of Nerja, about 1 hour and twenty minutes easy drive via Autovia, so we packed our bags for a two-night stay and set off to Nerja via the coast road. There is an overland route via Lake Viñuela and Velez-Malaga which is a beautifully scenic drive but this can sometimes be a bit hit-and-miss.
There wasn't a lot of traffic and we expected an uneventful journey, as usual. I should have bought that lucky heather of the Gypsy lady after all!
Not long after joining the A-7 motorway route to Nerja, the car started to shudder, like the space shuttle on re-entry to the atmosphere! It sounded like the engine was dropping out!
There was no option but to pull over and see what the problem was. As it transpires; the front right tyre had burst in three places. It was as flat as a pancake.
As luck would have it – Here comes the cavalry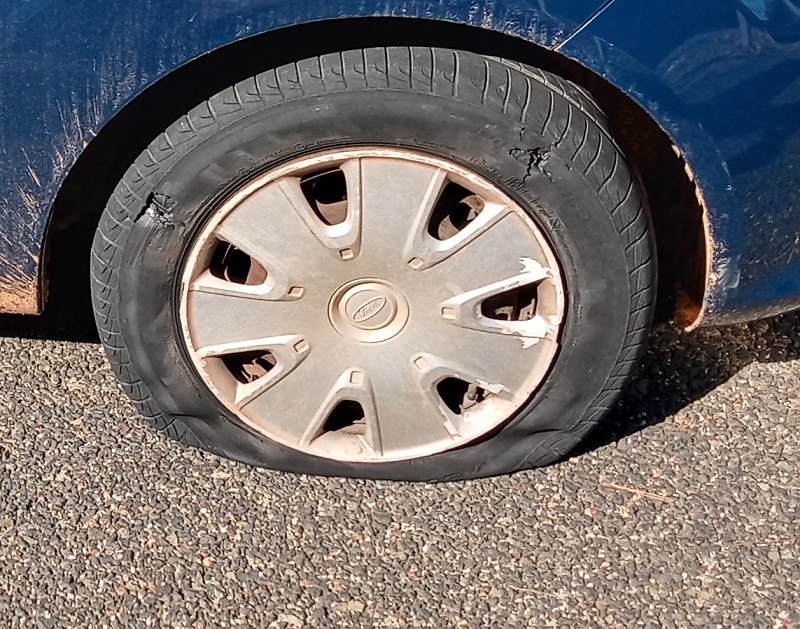 Cursing our bad luck, we hadn't seen a car pulling up behind us. It was the Guardia Civil (Tràfico).
Two men got out and asked what the problem was. They saw the tyre was wrecked and asked us to pull up about 50 metres further on as we were still on a slip road. They then got our red triangles and placed them along the road for us.
I tried to call for a Grua (breakdown truck) to get us off the motorway and to a garage to change the burst tyre. This was an impossible task. The traffic had picked up and I couldn't hear a thing with the noise of the passing vehicles. The Guardia Civil took charge and got hold of a rescue vehicle for us. They made sure we were safely behind the barriers and bade us farewell.
We were towed to El Palo where our two front tyers were changed. We were on our way to Nerja. Thankfully, the rest of the stay and journey back was uneventful.
I would like to put on record how helpful the Guardia Civil Tràfico officers were. They made a very stressful and potentially dangerous incident look like a run-of-the-mill occurrence.
An autovía is one of two classes of a major highways in the Spanish road system similar to a British motorway or an American freeway. It is akin to the Autopista, the other major highway class, but has fewer features and is never a toll road.
What to do if you break down?
Passengers should move away from the vehicle to a place of safety, behind a barrier or fencing away from oncoming traffic. Place the two warning triangles to alert other drivers of the obstacle. If on a motorway, place one 50 metres behind the car and another 50 metres behind that.
Check out this website for complete instructions on what to do if you break down on the motorway in Spain.
Guardia Civil
The Civil Guard is the oldest law enforcement agency in Spain and is one of two national police forces. As a national gendarmerie force, it is military in nature and is responsible for civil policing under the authority of both the Ministry of the Interior and the Ministry of Defence. Wikipedia
Note* Make sure you have the correct documents (insurance) as well as Hi-Viz jackets, and Hazzard Triangles. You might just need them.