Nerja Beach Holidays – Spain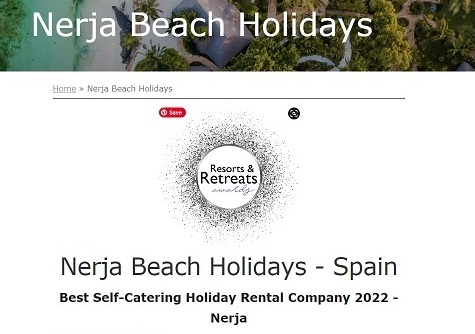 Best Self-Catering Holiday Rental Company 2022 – Nerja
Well, according to the Lux Review website, Nerja Beach Holidays scooped a great award. Yes! really!
Imagine our surprise (not at being recognised for our excellent services and accommodation, but to be told we had won an award for being so good.) when the award announcement dropped into our email.
Travel and Tourism Awards 2022
We are not complaining; oh no! we go out of our way to make sure our clients receive the best accommodation and service that we can provide.
Lux Life Magazine
LUXlife is delighted to announce the return of the Travel and Tourism Awards for 2023! Now in our seventh year, the Travel and Tourism Awards 2023 will pay homage to the experts within the industry and welcome nominations from businesses and individuals across the globe. From travel agencies, guided tour experts, food and beverage service providers, sustainable travel specialists and everything in between, the Travel and Tourism Awards will recognise these prestigious companies by revealing their dedication and hard work.
Best Self-Catering Holiday Company in Nerja
With travellers once again welcome to explore, experience and enjoy long-awaited excursions to global destinations, the industry is finally returning to its former glory after what can only be described as a challenging couple of years.
Now as we approach 2023, holidaymakers are making up for the lost time by upgrading elements of their latest adventures and relying more on travel professionals to make their trips perfect. Industry authorities are excited to note that revenue has climbed to 81% of pre-pandemic levels, and by 2023, is expected to make a full recovery and is estimated to contribute almost $2 trillion to the US economy alone – a positive future for tourism!
Check the website for yourself.
It's nice to be recognised.