What exactly is "Paella"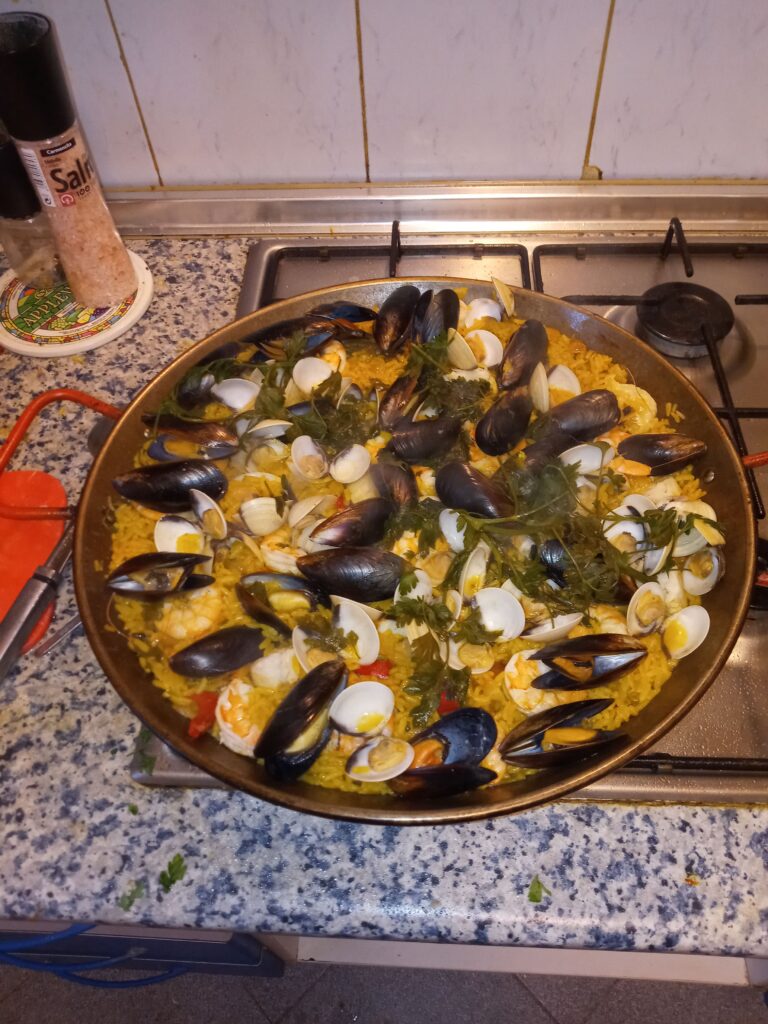 Paella is Rice or "Arroz"
Paella de Mariscos is a popular Spanish rice dish that originates from Valencia, a coastal city in Eastern Spain. It is a seafood paella that includes a variety of seafood ingredients such as shrimp, clams, mussels, squid, and sometimes lobster or crab. The dish is cooked in a large, shallow pan called a paellera, which is designed specifically for cooking paella.
The rice is cooked with a flavorful broth that includes saffron, paprika, garlic, and other aromatic ingredients, giving the dish a distinctive yellow colour and delicious taste. Other ingredients that may be added include green beans, tomatoes, and bell peppers.
Paella de Mariscos is typically served as a main course, often accompanied by a fresh green salad and a glass of Spanish wine. It is a beloved dish in Spain and is also popular in other countries around the world, particularly those with a strong Spanish influence. It is often regarded as Spain's national dish, although, not by Spaniards; they see it as a Valencian dish but, they still shovel it down on every occasion possible.
How Paella is Made
Making paella is quite simple and you can use whatever ingredients you like. Inland Spain you will find the Chicken, Pork and Rabbit feature. The coastal towns will be more seafood orientated.
You will need:
A Paellera or large frying pan
Rice (authentic short-grain rice if you are going native)
Prawns, shellfish and anything else that comes out of the sea.
Saffron
Stock (chicken or fish)
Olive oil
Onion
Garlic
Tomatoes
Red or green peppers (or any vegetables you care for)
Salt and pepper
Parsley
Method.
Into a hot paellera or frying pan add enough oil to cover the bottom, add onions and garlic and cook until softened. Add the vegetables and fry, again until soft. Add the rice and mix well to get the whole of the rice covered in the oil. Mix the saffron into your stock. Add enough stock to cover the rice. Turn the pan on low heat and cover the top with a lid, foil or another pan.
After 30 minutes, check that the rice stock is reduced and the rice is tender. Add your prawns and shellfish and cover on low heat for 10 minutes. Check the prawns and shellfish are cooked. Add some parsley as a dressing. Serve on a plate and pour yourself a glass of lovely Spanish wine. Enjoy.
The paella in the photo was made 9th of April by yours truly. But if you are visiting Nerja, then Ayo's on Burriana Beach is the most famous paella in the world. And Ayo has been the subject of many TV food and travel programmes.
Tip: Try and burn the bottom of the paella (really!) as this burnt part is the highly prized "socaratt". The name Socarrat is a culinary term used to describe the crispy, caramelized layer of rice that forms at the bottom of a paella or similar rice dish.