Holiday Rental in Nerja – Apartment Tetuan 44
Description of the apartment
This beautiful 1 bedroom apartment is located on the tranquil Oasis de Capistrano with its wonderful gardens. The apartment comprises one bedroom with twin beds, fitted wardrobes and a ceiling fan. The bathroom has a bath and an overhead shower. The open-plan kitchen leads to the living room. The kitchen is fully equipped with a fridge, oven, hob, microwave, coffee machine, washing machine and all other amenities needed for your self-catering holiday.
There is seating for 4 people within the lounge and dining area. The lounge also has a very comfortable sofa bed (sleeps 2).
The patio doors lead from the lounge onto a lovely private terrace, that has plenty of sunshine and sea views in the distance. Oasis de Capistrano has two community swimming pools, a large children's pool and an on-site bar/restaurant. Burriana Beach is a 15-minute walk away, and Nerja centre is around 20 minute's walk. There is a regular local bus service within two minutes of the apartment.
For larger parties, we can offer this apartment along with Tetuan 6 (a 2-bedroom apartment) as they are within metres of each other and can sleep a total of 8 persons. See this apartment from the main website.
Semana Santa or Holy Week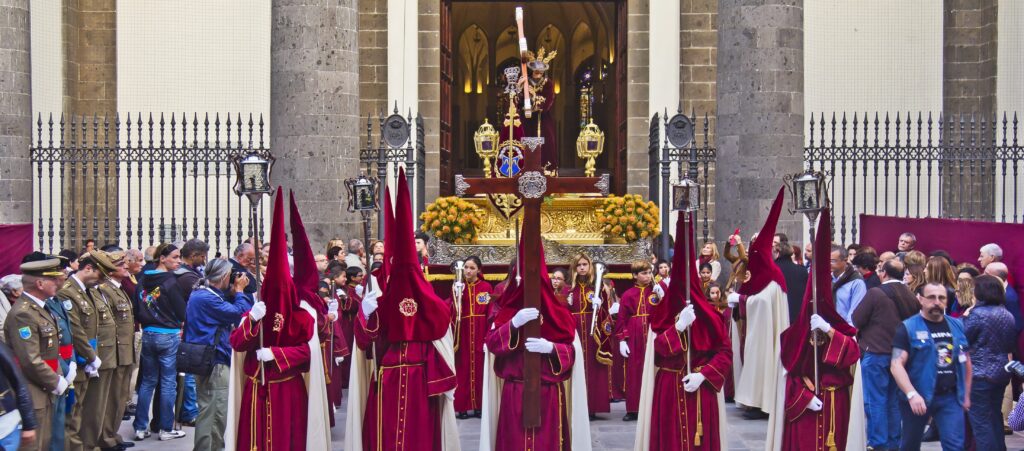 Holy Week is the most sacred week in the liturgical year in Christianity. In Eastern Churches, which include Eastern Orthodox, Eastern Catholic and Eastern Lutheran traditions, Holy Week occurs the week after Lazarus Saturday and starts on the evening of Palm Sunday. For Hispanic countries, this is as big a fiesta as you can get.
Nerja is no exception. Just like in the rest of Spain, there will be several days of celebrations, both sombre and happy.
Booking a villa, apartment or townhouse in Nerja with Nerja Beach Holidays, you can catch all that is happing in the town and other locations along the Costa del Sol. there will be so much happening that having your own place in Nerja will be a must.
Check out this wonderful apartment Tetuan 44 on the Nerja Beach Holidays main website. There are plenty more 1,2 and 3-bedroom apartments for rent. Make sure you book now though; Semana Santa attracts great numbers of tourists and quite often, accommodation is hard to come by.
We look forward to seeing you, here in Nerja very soon. Meanwhile, why not check out this great Nerja website that offers you all the information you will need for Semana Santa in Nerja 2023.