Major eating out guide expands its Soletes category for summer and includes 12 new additions from Malaga province
The Guía Repsol describes the establishments in this section as friendly, appealing places that you would recommend to a friend, and that includes chiringuito beach restaurants and even ice cream parlours
Ayo in Nerja? Spain's Guía Repsol has added 41 restaurants in Andalucía, including a dozen in Malaga, to its Soletes category this summer, as it decided to recommend places which are very popular locally but do not normally make it onto these lists. The new additions were announced at a gala event in Ibiza on Tuesday.
The guide describes the restaurants in this section as friendly, appealing places that you would recommend to a friend, and that includes chiringuito beach restaurants and even ice cream parlours.
The recommendations in this section for Malaga province are: Helados Lauri, Santa Gema, Chiringuito Gutiérrez Playa, El Tintero II, Miguelito El Cariñoso and El Caleño, in Malaga city; La Mar Bonita, in Torremolinos; La Plata Casa Matilde, in Benajarafe; Alma Playa, in Rincón de la Victoria; El Saladero and El Hornillero, in Vélez-Málaga; and Ayo, in Nerja. Read more from the Sur in English
Ayo in Nerja – The World Famous Paella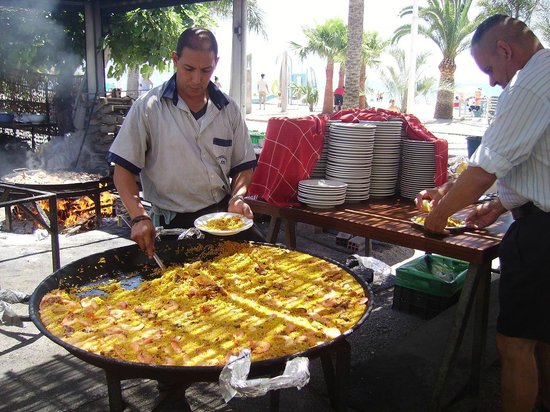 I am truly amazed at the inclusion of Ayo in Nerja to this list! Not because the food is bad, not because the prices are high or the service is poor; no! It's because Ayo and his paella are actually world famous.
You can trawl the Youtube and Internet and you will find programmes featuring Ayo's on Burriana Beach in Nerja. There are videos, blogs, articles and so on, all featuring this great Nerja Merendero /Chiringuito.
It is one of the 'must visit' sites on your trip to Nerja. Along with the Balcòn de Europa and the Nerja Caves, Ayo's is a tourist attraction. The restaurant is always packed and people gather to watch the Paella being made over a roaring wood-burning fire.
There are, of course, other chiringuitos on the Burriana beach-front. One such as La Barca but, Ayo and his paella are the best known.
So, when you come and stay at the Nerja Beach Holidays apartments or villas, go to Ayo's.