Pollo Envuelto En Tocino Con Garbanzos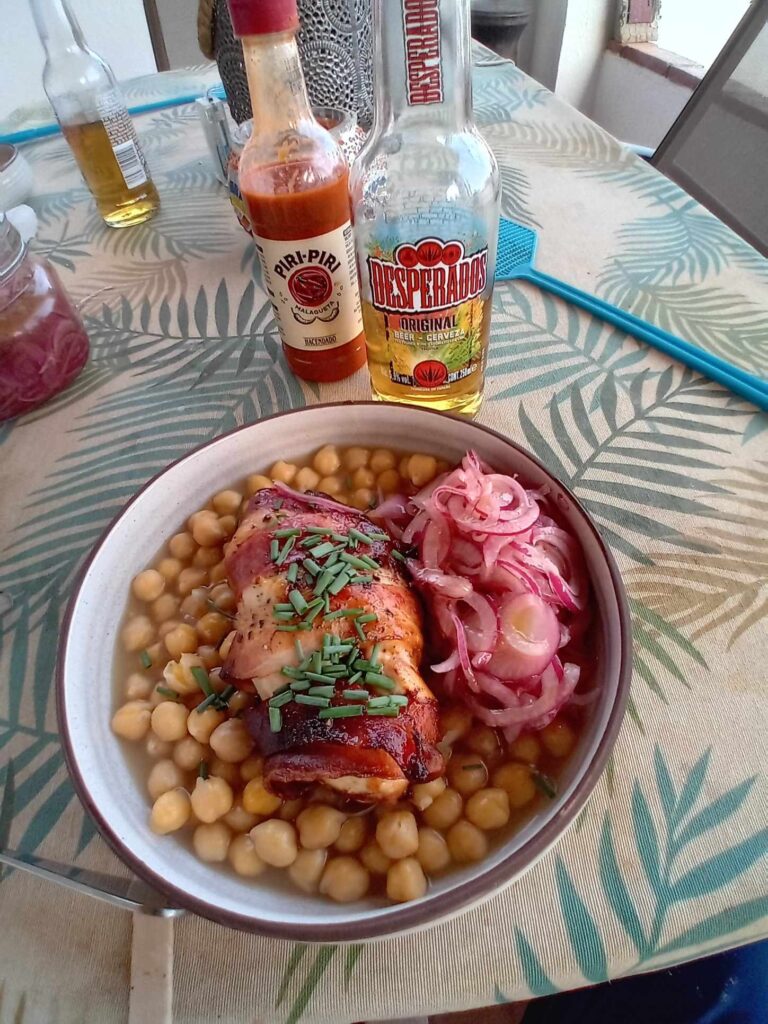 This dish is a tad similar to UK Hunters Chicken, insomuch as it is chicken wrapped in bacon. However, trust me, this dish is as Spanish as you can get. The Garbanzos or Chickpeas are a bit of a staple here in Spain. They are cheap, they go with any dish you like, they are filling but, most of all, they taste great!
In the photo, I have the chicken on a bed of chickpeas and a mound of homemade pickled red onions and fresh chives from my garden. The beer and Piri-Piri sauce are optional. I prepared this dish in a Cosori Air Fryer.
Ingredients:
2 x small chicken breasts
6 rashers of bacon of your choice (I use smoked)
1 jar of chickpeas (Garbanzos)
Salt and Pepper
1 stock cube
Oil spray for the air fryer
Method:
Cut the chicken breasts halfway down, lengthways at the thicker end (to help the meat cook evenly)
Lay 3 pieces of bacon, for each portion, on a work surface and place the chicken breast on top. Starting from the thin end, wrap the bacon around the chicken, covering as much as you can.
Spray the air fryer basket and place the chicken inside. There is a preset on the Casori Air Fryer (195C for 25 minutes) simply press "Go" check back halfway through and turn the chicken over.
In a saucepan, having washed the chickpeas, add them to the pan and crumble in a stock cube and enough water to cover them, (I used chicken OXO) and bring to a boil then gentle simmer. add salt and pepper to taste.
That's basically it! When the chicken is cooked, serve it on a bed of chickpeas and jazz it up in whatever way you like.
Enjoy!