Dia de la Virgen del Carmen is Celebrated all along the Costa del Sol 2022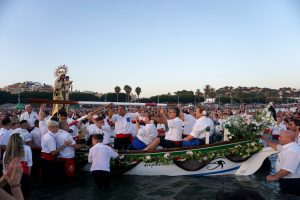 Día de la Virgen del Carmen is celebrated on July 16th in many coastal towns and villages throughout Spain.
Places as diverse as Almuñecar, on the coast of Granada province, and Puerto de la Cruz in Tenerife share the festival with many other coastal communities in Andalucia, Nerja, Murcia, Valencia, and Catalonia.
Hundreds of years later, many pilgrims came to this holy place with the purpose of keeping the Virgin Mary of Mount Carmelo safe. Today, the Virgen del Carmen is the protector of all waters, seamen, and fishermen. The dedication to Virgin Mary became an important part of many Catholic-based countries
The Costa del Sol towns and villages had to forgo the Virgen del Carmen celebrations during the Covid-19 pandemic. Now though, they are back with a vengeance.
I searched my favorite online newspaper, the Sur in English, for photographs. I was not disappointed.For anyone interested in events such as Virgen del Carmen and who wants to check out the festivities, try these photographs from Sur in English.
You may want to make a cuppa, there are over 80 great images to see.
There are many fiestas and other events all along the Costa del Sol and inland places. Renting a Nerja villa or apartment gives you the freedom to pick and choose which you attend.
Nerja has its own traditions; such as:
July
International Festival of Music and Dance of the Cave of Nerja
Day of the Virgin del Carmen, July 16. The feast in honour of the patron saint of sailors is being held in all municipalities of the Costa del Sol and is one of the most beautiful ones. Among wreaths the Virgin is carried into the sea in a sea procession, there are fireworks and a popular Moraga (grilled Sardines at the beach) accompanied by traditional music and dance of the area.
September
Feria de las Maravillas de Nerja around September 8. Feast in honour of the patron saint, the Virgen de las Maravillas; this day takes place a procession of the Virgin through the streets and there are fireworks.
Tourist day: Since the '60s is celebrated at the Balcony of Europe a day for the tourists with food and drink typical of the area and dances.
There is also the Nerja Fair and Columbus Day, Halloween, and so on. There is plenty to see and do. Check out this website for Nerja and other Costa del Sol Locations. Malagaweb.
Enjoy yourself!