Holiday Rental in Nerja, Edificio Coronado 156, Parador Area
Self-Catering is the way to enjoy a Nerja Holiday
I've said this countless times; self-catering holidays are the best way to enjoy your time abroad. Why? Freedom!
The advantage of choosing self-catering accommodation is that you get more freedom, more choice, more space and more beds for the price of an all-inclusive holiday.
A self-catering holiday is basically like having a home away from home. You get privacy and you can come and go as you please. You are not tied to hotel or resort itineraries.
Nerja Beach Holidays has some of the best self-catering accommodations on the Costa del Sol. Here we would like to feature a lovely 2-bedroom apartment that is close to the Parador in Nerja.
Paradores are a network of 97 state-run hotels 
(96 in Spain & 1 in Portugal). They are marvellous properties consisting of restored Castles, Monasteries, Convents, Fortresses, Manor Houses, and Palaces as well as some exceptional modern properties.
Edificio Coronado 156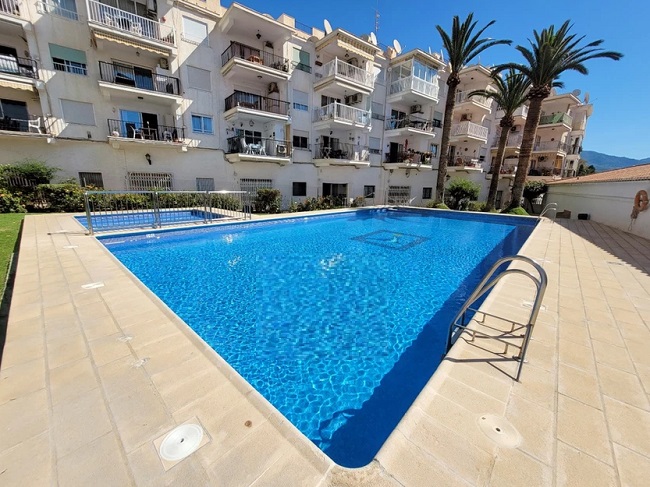 This spacious 2-bedroom apartment is located on the 1st floor in the building Coronado in the Parador Area within a short walk to Carabeillo and Carabeo beach.
As you walk into the apartment, you will find the living room with a large sofa, ample seating and the dining area.
Self-Catering Apartments are fully equipped
There is free WiFi and a large screen Smart TV with international channels.
​The master bedroom has a king-size bed, and storage area and leads to the private balcony. The twin bedroom has two single beds, a storage area and also leads to a private balcony.
​The kitchen is fully equipped with a hob, oven, fridge freezer, microwave, toaster, kettle and washing machine.
​The quirky pink bathroom has a walk-in shower, a bathtub, wash basin and toilet.  There is free on-street parking around the building and a big payable car park within a short distance from the apartment.
It has two communal pools, one for adults and one for children which are open from the beginning of April to the end of October.
Shops, Bars and Restaurants
There is a Coviran supermarket with all your essentials just across the street. Also in the streets just surrounding the apartment block you will find various coffee shops, bars, restaurants, souvenir shops, a tobacconist, launderette services, an ATM and more…
Access to the Balcon de Europa is easy as it is located within 8 minute walk from the apartment. See more
If you need more information or would like to book this apartment, please contact Nerja Beach Holidays.