Apartments Gran Plaza – Right in the heart of Nerja and close to the Balcòn de Europa and Tutti-Frutti Square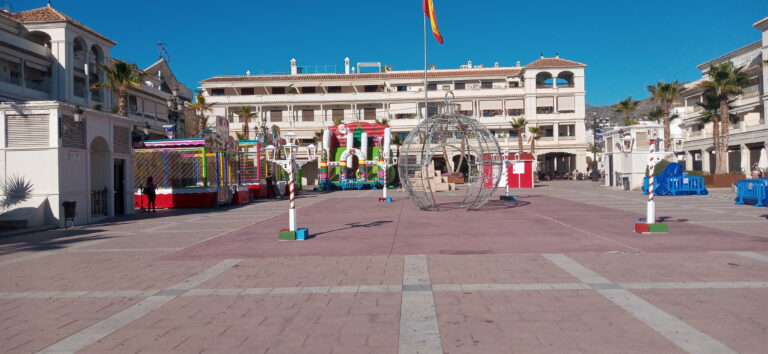 The location is excellent; the apartment is next to the entrance to the Plaza, at the car park entrance end. This is great as you have the car parking underground and the entrance is a great place to catch a taxi if you are off out and about in Nerja.
Apartment Gran Plaza
The front of the apartments are white and grey painted with traditional rejas (ornamental bars on the windows) and Juliet balconies. Modern built but still retaining traditional Spanish features.
The apartment itself is ultra-modern. In the kitchen area, there is a black granite kitchen top and white fixtures and fittings. A fridge /freezer, coffee machine and microwave along with the necessary pots, pans, dishes and cutlery complete the kitchen. There is a small dining table as well.
The bathroom, like the rest of the apartment, is very modern. There is a WC, wash-basin and shower with a glass screen. Also, a hair dryer is provided. A large window allows for natural daylight.
The lounge area has a large sofa/bed a coffee table and an excellent TV with many great channels. Again, the coffee table and TV stand/drawers are white and modern. There is an Internet connection which was good.
The bedroom is a good size with a very comfortable double bed. Bedside lamps and an open wardrobe stand complete the bedroom. The doors to the bedroom and the bathroom are the hidden sliding doors type.
The apartment is very clean, comfortable and well situated. There is the added bonus of a roof-top pool and seating area.
Plaza de España Apartments
Plaza de España is a large square or 'plaza' surrounded by shops, offices, hotels and apartments. The Plaza is situated just off the Balcòn de Europa and close to the church of El Salvador next to Tutti Frutti square. There is an entrance via the Town Hall arch and the other end via the underground parking entrance.
During the festive holidays, such as Christmas and New Year there are bouncy castles, Santa cabins and other festive paraphernalia dotted around Plaza de España. The bars/cafes and restaurants are busy and very lively.
Your stay could include takeaway Indian and Chinese meals as well as a fantastic breakfast just outside the plaza. Taxis to the restaurants are quick and easy to catch and, in general, your break should be hassle-free and happy.
If you don't want to pay for parking, there is a free car park before the last bridge at the entrance to Nerja. This is a short walk away from Plaza de España.
You can book Apartmentos Gran Plaza and many other villas, apartments and townhouses from the Nerja Beach Holidays website.
Check out this and other great 1 bedroom Nerja apartments from the Nerja Beach Holidays website.